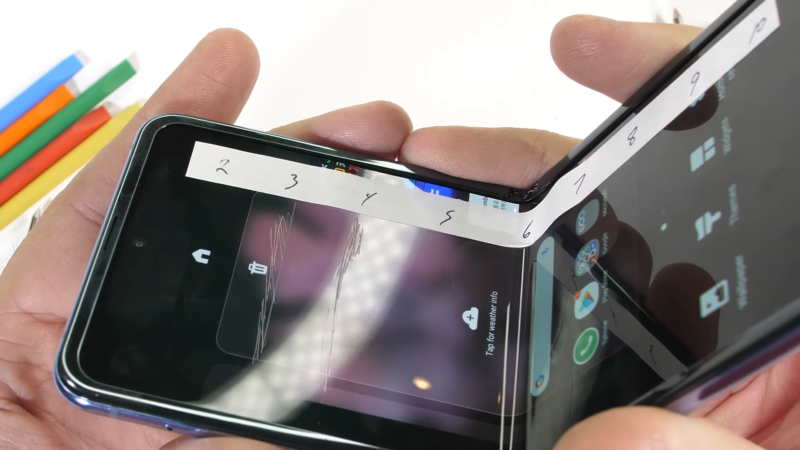 Enlarge / The Galaxy Z Flip's "glass" isn't any more scratch-resistant than plastic. (credit: JerryRigEverything)
There comes a point in the life of every foldable smartphone when, after a wave of hype and highly controlled early looks, the phone actually hits the hands of the general public—and durability issues immediately pop up. We've seen it with the Galaxy Fold, which died in the hands of reviewers and was delayed for six months; the Huawei Mate X, which had its launch limited to China and breaks after a single drop; and the Moto Razr, which has a creaky hinge that jams easily and a display that delaminates. This weekend it was the Samsung Galaxy Z Flip's turn to disappoint us. The initial shipments are going out, and we're already seeing that Samsung's much-hyped flexible glass cover isn't much more durable than plastic.
YouTuber JerryRigEverything regularly does destructive durability tests on phones, partly by attacking a device with a set of Mohs picks. These pointy metal tools that are calibrated to the Mohs scale of mineral hardness allow a user to determine the hardness of a surface by doing a scratch test. You start with the softest pick and work your way up the set until you find something that can scratch the surface you're testing. A modern smartphone with Corning's Gorilla Glass scratches at level 6 on the Moh hardness scale.
The Galaxy Z Flip features a first-of-its-kind flexible glass cover that Samsung calls "Ultra-Thin Glass." Until now, foldables have had to suffer through life with plastic display covers, which scratch easily, don't provide much protection, and just like a resistive touchscreen, feel bad to swipe around on, thanks to the squishy pliability of the display. With this new invention of flexible glass, the Z Flip promised a return to a hard, smooth, scratch-resistant display surface.
Read 5 remaining paragraphs | Comments
The article ' Samsung's "Ultra Thin Glass" doesn't seem much stronger than plastic ' Previously Appeared on: https://arstechnica.com/?p=1654257